IT courses for entrepreneurs in the Fergana Valley, Digital Mix, 2022.
Our company launches Digital Mix project in Fergana Valley
Digital Mix is IT training for entrepreneurs. The trainings will be held within the framework of the joint project «Adaptation of the population's skills to the post-pandemic economy in the Fergana Valley», organized by the Ministry of Employment and Labour Relations of the Republic of Uzbekistan and the United Nations Development Programme.
The trainings will familiarize entrepreneurs and give them more information about modern information technologies and their products, about the possibilities of IT and Digital tools, as well as provide real recommendations for the application of these opportunities in the business of the participants of trainings.
The trainings will be held offline in three regions of the Fergana Valley (Andijan, Fergana and Namangan).
Guest coaches (for 1 session):
Diera Usmanova, specialist in social networks and internet promotion from Fergana
Shokhruh Mirzazaripov, entrepreneur, IT specialist from Fergana
Alexander Rozhdestvensky, a foreign cybersecurity specialist
Topics of the seminars within the training:
Trends in IT
IT-tools for small business in Uzbekistan
Development of websites, mobile applications, telegram bots
Social networks for small business promotion
Online tools for business communication with customers
Online sales, integration with payment systems, business automation
Human Resources and IT
Cybersecurity, the foundations of financial security
Shooting video for business, etc. themes
Keep up with the news!
Fergana photo report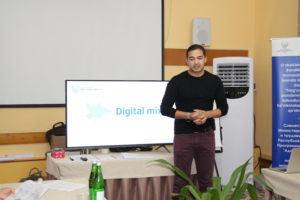 ---
Photo report from Andijan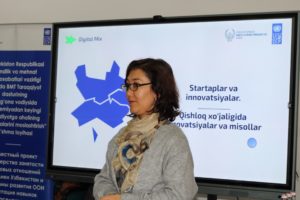 Photo report from Namangan